Yoshi-kun



Japanese:

 ヨシくん

First appearance

Episode 1, Season 2 (anime)

Grade:

1st Year (later 2nd Year)

Age:

16-17

Personality traits:

Lovestruck, loses track of time and place when with Nao-chan

School:

Position:

Student

Seiyuu:
A recurring secondary character, Yoshi-kun, along with his girlfriend Nao-chan, are Ousai's most well-known couple.
Appearance
Edit
Personality
Edit
Relationships
Edit
Nao-chan
Kaede Igarashi
Shino Amakusa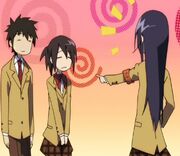 Places associated with Yoshi-kun
Edit
Despite his repeated appearances, Yoshi-kun was only named in Chapter 323 when Nao-chan addresses him by name.
Before being named, Yoshi-kun and Nao-chan were collectively known among fans as Ousai's sickening sweethearts (バカップル) for their overly affectionate flirting.
Ad blocker interference detected!
Wikia is a free-to-use site that makes money from advertising. We have a modified experience for viewers using ad blockers

Wikia is not accessible if you've made further modifications. Remove the custom ad blocker rule(s) and the page will load as expected.