Newspaper Club



Japanese:

新聞部

Club leader:

Ranko Hata

Activities:

Editing and producing the school newspaper

Advisor

Unknown

Room

Newspaper Club Room

The Newspaper Club (in Japanese shinbunbu) is one of the more prominent clubs at Ousai Private Academy. Its main function is to keep the school populace up-to-date on current events (as well as juicy gossip) by producing and distributing the school newspaper. They are based in the Newspaper Club Room.
Relations with the Student Council
Edit
The Newspaper Club works fairly closely with the Student Council, and interviews with the Student Council members are fairly common (for example, at the beginning of the year or to get their opinions on school events). In return, the Student Council has sometimes helped the Newspaper Club with their activities. Two examples are helping with the investigation of the Seven Mysteries of the School (where they stayed with Ranko Hata while other members were elsewhere) and the second was helping with the production when Ranko was the only member around (the rest had gone to visit relatives in the countryside).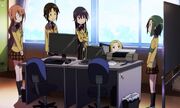 In addition, Vice-President Takatoshi Tsuda occasionally contributes essays and short stories. His first attempt succeeded in driving many readers to tears, helping him realise his talent for writing.
Despite this, the Student Council are often the targets of Ranko's scoop-hunting tendencies, and have learned to expect Ranko to twist their words or actions to make them seem scandalous. In particular, Ranko has taken to hinting a romance between the President and Vice-President, knowing that was the sort of story many students would be interested in following.
Notable People
Edit
Notable Members
Edit
Occasional contributors
Edit
Ranko has lamented on several occasions the fact that there are no Second Year members of the Newspaper Club. This forced her to sneak along on the Second Year school trip.
Ad blocker interference detected!
Wikia is a free-to-use site that makes money from advertising. We have a modified experience for viewers using ad blockers

Wikia is not accessible if you've made further modifications. Remove the custom ad blocker rule(s) and the page will load as expected.