While Seitokai Yakuindomo has a number of notable characters, there are also a few who only make one or two appearances. These range from teachers who only appear once or twice to students who interact with the cast briefly before vanishing again.
Mathematics Teacher
Edit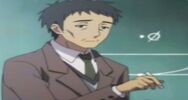 Simply credited as 'Suugaku kyoushi' (数学教師, literally 'Mathematics Teacher'), this gentleman appeared briefly in Episode 10 of the 1st anime, instructing Takatoshi to answer a question on the board. He is notable for being the first male teacher seen in the series. Voiced by Masahi Nogawa.
World History Teacher
Edit
Credited as 'buin' (部 員, literally 'Staff Member'), this teacher made her first appearance in Episode 10 of the 1st anime, teaching Takatoshi's class about the Roman Empire. She later reappears in Episode 12 of the same season, working with Naruko Yokoshima as an interviewer of prospective Ousai students. She makes another appearance in the 2nd anime, taking part in a survey with fellow teachers Daimon-sensei and Michishita-sensei. Voiced by Nanae Nanako.
Outsiders/Non-school characters
Edit
The 'Nanpa otoko' (ナンパ男, literally Nanpa Man) appears in Episode 7 of the 1st anime, when the Student Council members visit the beach. Nanpa means 'to seduce' or 'to play around', and so the closest equivalent is 'playboy'. He attempted to pick up Aria, Shino Amakusa and finally Naruko in turn, but Naruko's overwhelming lust drives him away. He attempts to hide out on the open ocean, but Naruko hunts him down and is hinted to have, for want of a better term, "Drain him dry". He reappears in the 2nd season during the Student Council's beach trip, only to wind up attacked by Naruko again. Voiced by Shō Sudō.