Ousai Academy Library



Japanese:

放送室

Type:

School library

Function:

School library, study area

In charge:

Nene Todoroki (student librarian), teacher in charge is unknown

The Ousai Academy School Library (in Japanese toshoshitsu lit. book room) is a popular place during exam season. Several characters spend quite a bit of time inside, including the studious Suzu Hagimura.
The library is located near a staircase and at least one classroom.
Equipment
Edit
Besides the shelves and shelves full of books, the library is also equipped with several tables and chairs. There are also footstools to help students get books from higher shelves, but the Student Council intends to add taller ones as some students complain the stools aren't tall enough for them.
Notable People
Edit
Frequent visitors
Edit
While Suzu is often in the library to do some reading, Shino and Aria (and later Kotomi) are often inside looking up the human body, specifically to do with reproduction.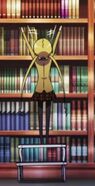 Ad blocker interference detected!
Wikia is a free-to-use site that makes money from advertising. We have a modified experience for viewers using ad blockers

Wikia is not accessible if you've made further modifications. Remove the custom ad blocker rule(s) and the page will load as expected.