Eiryou High School



Japanese:

英稜高校

Type:

High School

Single sex/ Co-ed:

Co-ed (originally girls only)

First appearance

Manga Chapter 29 (first mention), Manga Chapter 299 (first on-panel appearance)
Eiryou High School (in Japanese Eiryou Koukou) is the other major school mentioned in the series. Like Ousai Private Academy, it recently became co-ed and is also notable as where Uomi is School President.
Like many Japanese schools (including Ousai), Eiryou has a winter uniform and a summer uniform. The summer uniform is generally lighter than the winter uniform, so as to help students keep cool during the summer months.
Winter Uniform
Edit
Eiryou High School's winter uniform (the one Uomi wears during her first appearance) consists of a white long-sleeved shirt, a red tie and a light blue v-neck sweater. The boys wear dark trousers while girls wear dark blue skirts that generally reach mid-thigh.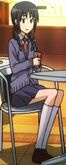 Summer Uniform
Edit
Eiryou High School's summer uniform consists of a white short-sleeved shirt, a red tie and a v-neck sleeveless vest. The boys still wear dark trousers while the girls wear dark blue skirts.
Notable people
Edit
Like Ousai, Eiryou offers clubs to its students. However, since Eiryou is not the focus of the story, not much is known about what is offered.
Mentioned or briefly seen clubs
Edit
Differences with Ousai
Edit